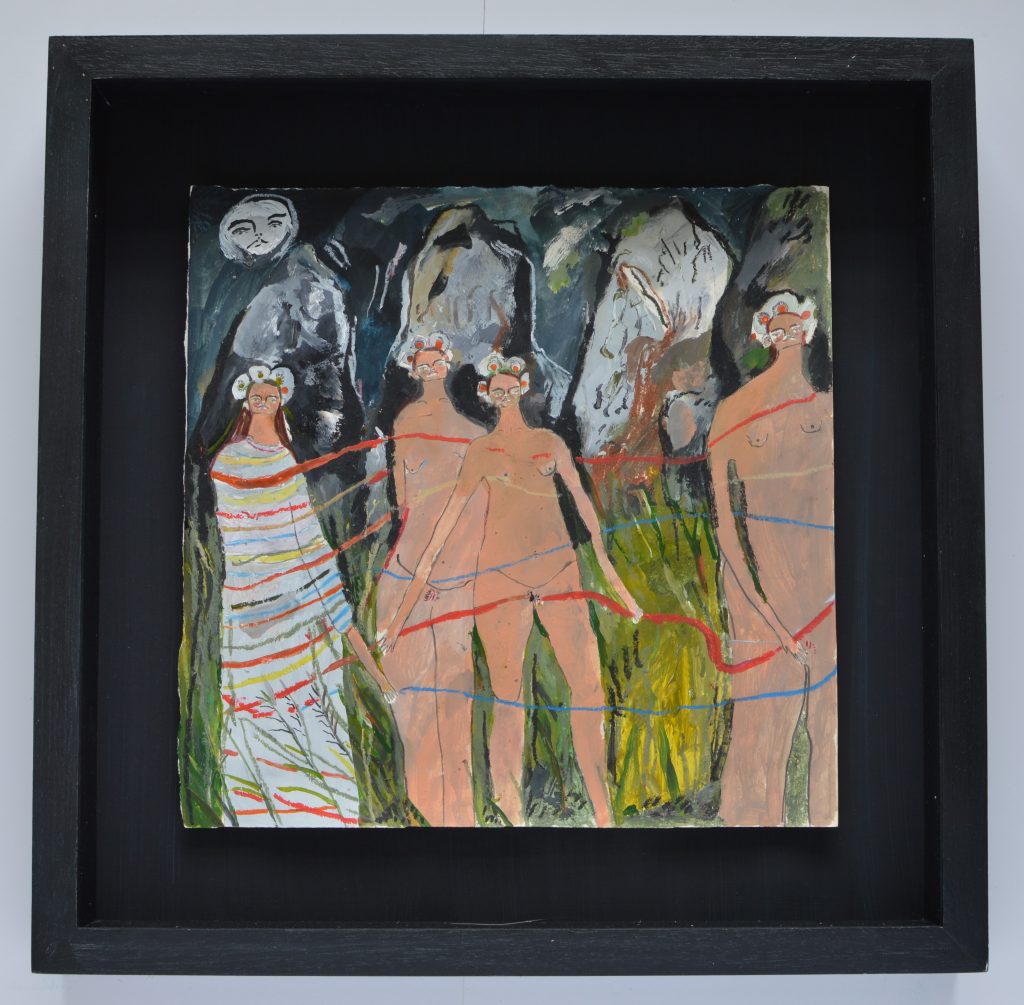 Hand Fastening Ceremony
30 x 30 cm
Acrylic, gouache, oil pastel, coloured pencil on paper
£1,285.00
Each work is for sale in a bespoke, hand-made, hand painted wooden box frame (shown above) measuring 40 x 40 x 7.2 cm.
A hand fastening ceremony is an ancient Celtic practice which is now used in Pagan weddings or rituals to mark couples committing to one another by having their hands tied together with braided ribbon. Knots are often tied in the braid at the making of each vow, pulling them in close. In my painting, the girls perform this ritual on one another and the Avebury stones that surround them. They are sealing the ancient rites of their ancestors (whose mark is left on the stones) into their bodies, so that the female lineage continues.
Melissa Kime was born in Wiltshire UK in 1989 and currently lives and works in London. She graduated with a BA Fine Art in 2011 from Falmouth University, with a postgraduate diploma in drawing from the Royal Drawing School in 2013 and an MA in Painting from the Royal College of Art in 2015. She exhibited in Bloomberg New Contemporaries, 2014 at the ICA London, selected by Enrico David, Goshka Macuga and Marvin Gaye Chetwynd and won the Arts Club award at The Royal Academy Summer Show, 2019. She has exhibited widely in the UK and abroad in both solo and group shows. She has won numerous prizes for both drawing and painting and her work is in many private collections. Melissa is represented by C&C Gallery.

Kime's work is cloaked in Catholic folklore and Magick. The women in her work perform rituals centred upon healing, jinx removal or the prevention of malevolent occurrences. They revolt against religious misconceptions of femininity and unite through the linking of menstrual blood, plaited hair and autobiographical experiences. Kime weaves her way through the memory and activity of wise women, those with inner knowledge and feminine secrets who might easily be accused of witchcraft, just one effective weapon with which to silence or disempower them.
Postage fees vary according to the size of the artwork and the location of the recipient.
We promise to send each artwork in the most secure and economical way possible.