22 – 28 September 2020
Liorah Tchiprout is an artist based in London. Her work is concerned with belonging, girlhood and the theatrical. She builds physical puppet characters to construct her own pantheon from which to draw images. This methodology allows these characters to sit in between the real and the imagined, drawn from a reality that is constructed. Through it, she builds a world which recentres the stories of women and girls – a world for them to liaise, interact, and plot in.

Tchiprout studied fine art print at University of Brighton, Bezalel School of Art and design Jerusalem and Camberwell. She has been previously shortlisted for the Ruth Borchard Self Portait Prize, shown at Bankside Gallery, and been awarded the Print Futures Award. Her work is held in public and private collections in Europe, the Middle East and USA.
' This work, 'Art Mum and Princess' is a monotype painted from life from two puppets. I am fascinated with the canon of art history, and the portrayal of women as princesses, queens, and performers. The mediums of drawing and print processes, and their traditional nature, make references to this. Informed by the Modicut Theatre of 1920s Yiddish New York, I am interested in portraying characters that are simultaneously players in stories, yet with dense inner lives of their own. '
See Liorah's Instagram and Website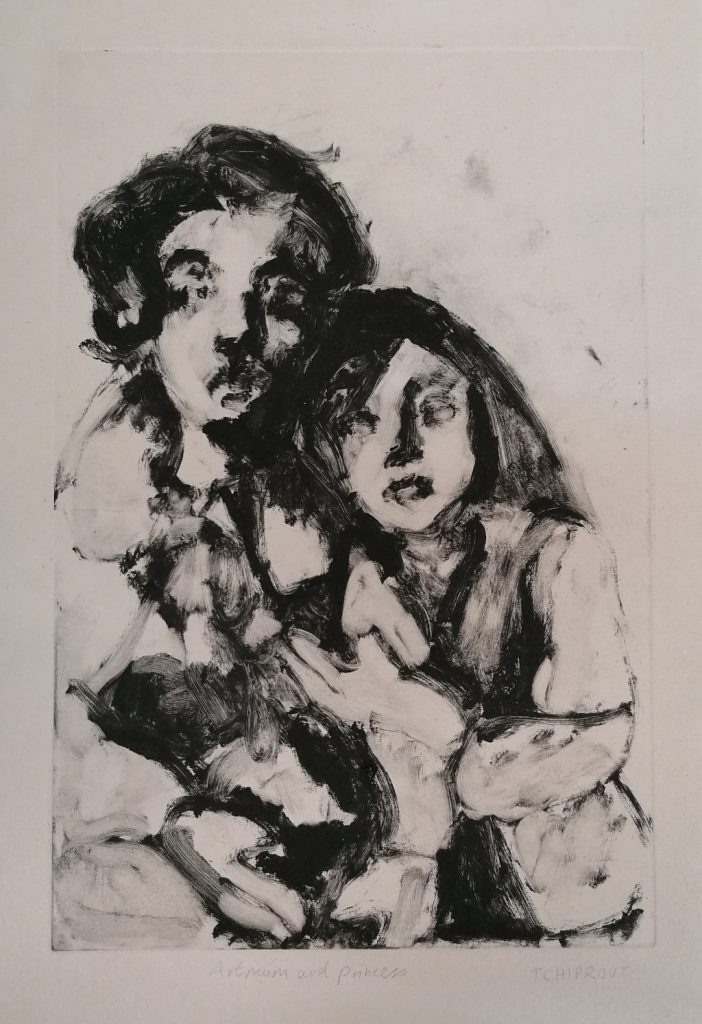 Art Mum and Princess
24.5 x 30.5 cm
Ink monoprint on cotton paper