9 – 15 June 2020
Alice Macdonald is an artist living in London. She studied at Falmouth University 2011 -14 and then attended the Royal Drawing School 2016-17. Residencies include Artist Teaching Residency at The institute of Fine Arts, Delhi, The Drawing Marathon at Rhode Island School of Design, RI, and Dumfries House, Scotland. Recent exhibitions include, The Summer Exhibition at the Royal Academy 2019, The Amber Room curated by Rosie Reed 2019, Fresh Air Hot Sauce at Arbyte Project Space 2019, Sugar Shilpa at Espacio Gallery 2019, Gift Shop at 60 Exmouth Market 2018, Downsizingat Cave Space 2018, The Bainbridge Print Open at ASC Gallery 2018 and The Beep Painting Prize at Esylium Galley, 2018.
This painting started with drawing from the film 'Mary of Scotland' (1936) a highly fictionalised film portraying the life of Mary Queen of Scots who is played by a swooning Katherine Hepburn. The image of a woman (Katherine Hepburn or Mary Queen of Scots?) looking out from a window is combined with a pattern taken from a tapestry designed and sewn by Mary Queen of Scots during her 18 year imprisonment by Elizabeth I.
See Alice's Instagram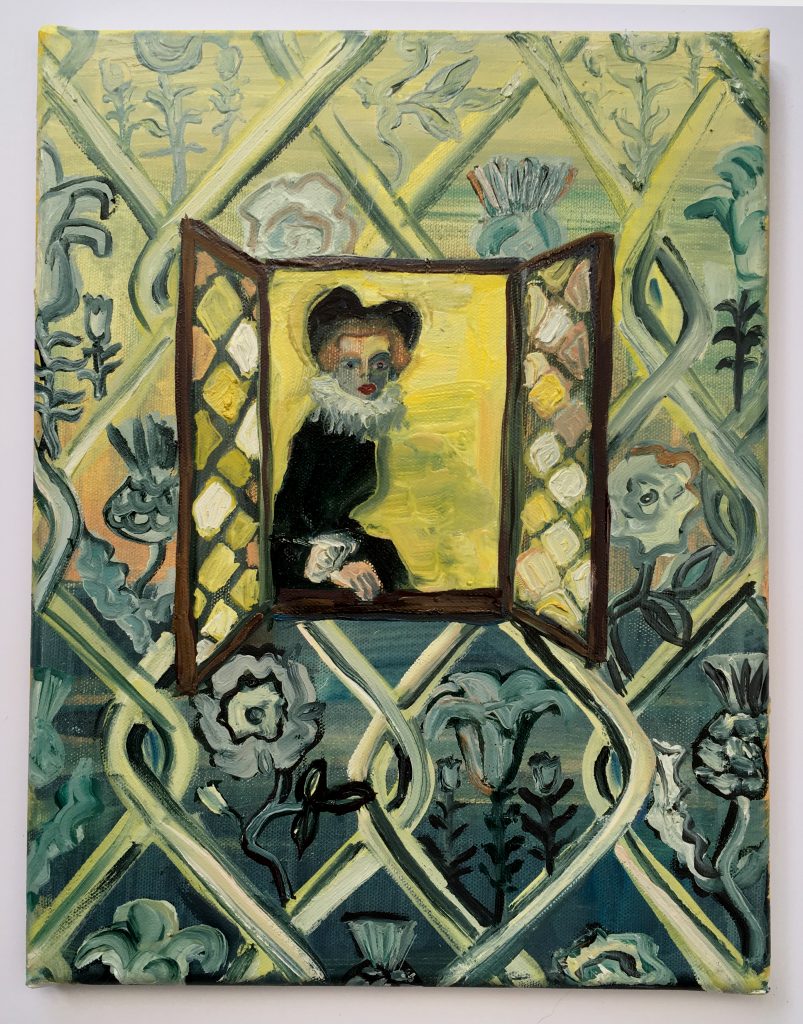 Mary or Katherine?
35 x 27 cm
Oil on canvas
£550 (plus postage)
Postage fees vary according to the size of the artwork and the location of the recipient.
We promise to send each artwork in the most secure and economical way possible.