26th May – 1st June 2020
Artist Statement from Tracey:
A Derby born and based artist, I can always remember myself drawing as a child. Creating all through school after hours, painting alongside the cleaners. I graduated with a First with Honours in Illustration at my Derby University. I have been published in Hunger magazine, and exhibited at London New Designers. Unfortunately, my health halted my art career and ability to draw. It took years to regain to be ability to start creating my lines again. When I did, it was with a new found appreciation.
Lines are of huge importance to my work. Each raw line can encapsulate a moment, an emotion, and this fascinates me. I have an urgency to my drawings, possibly because I'm scared and making up for lost time. I just want to convey my pure joy in creating lines. I am heavily inspired by old photographs. I love imagining what the people were thinking and feeling in that photo. From only starting to draw again from mid last year I have exhibited at Mall Galleries and been a part of some online exhibitions such as The Ladies Drawing Club. I just won the Delphian Open Call and will be exhibiting alongside some really amazing artists.
I'm always searching for inspiration from old black and white photos. I came across this old image of a cop and his canine companion and it sparked my imagination. I loved the determination of the dog. Dragging the police man, looking ferocious and scary on the hunt. It's fun playing with lines and manipulating the marks and shapes to create the characters on paper.
See Tracey's Instagram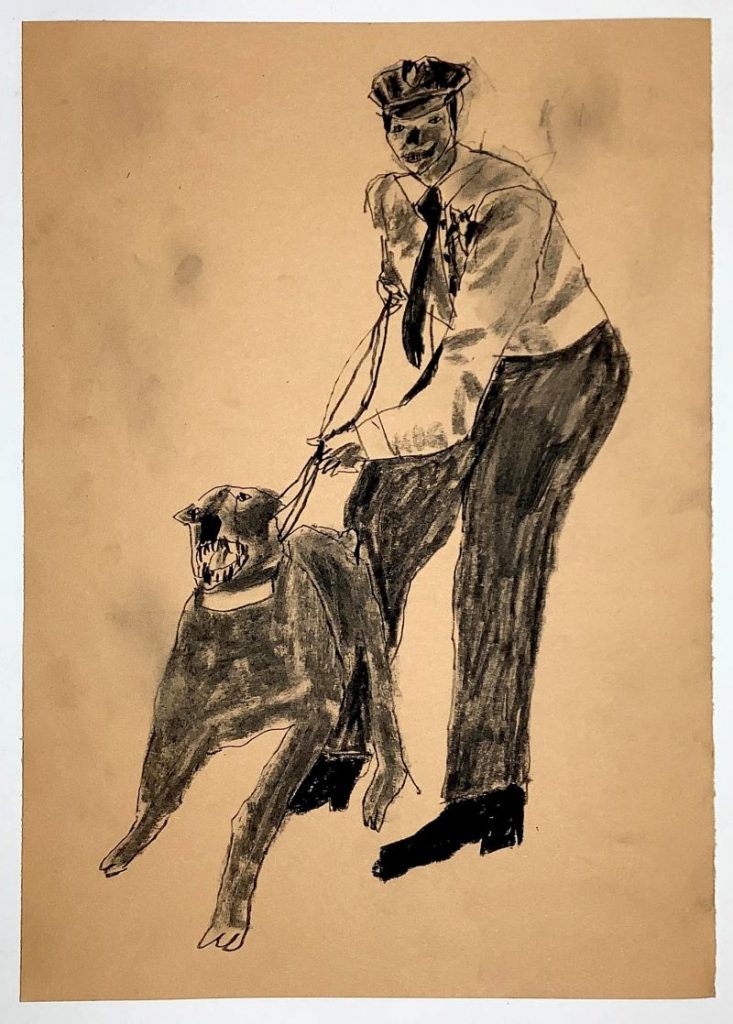 cop and dog on the hunt
Charcoal on Paper
29.7 x 42 cm
SOLD
Postage fees vary according to the size of the artwork and the location of the recipient.
We promise to send each artwork in the most secure and economical way possible.