ALL MOUTH GALLERY PRESENTS
SPRING FLING
21 – 23 May
Open Sat-Sun 11am-5pm

59 Old Bethnal Green Road, E2 6QA
Download Spring Fling catalogue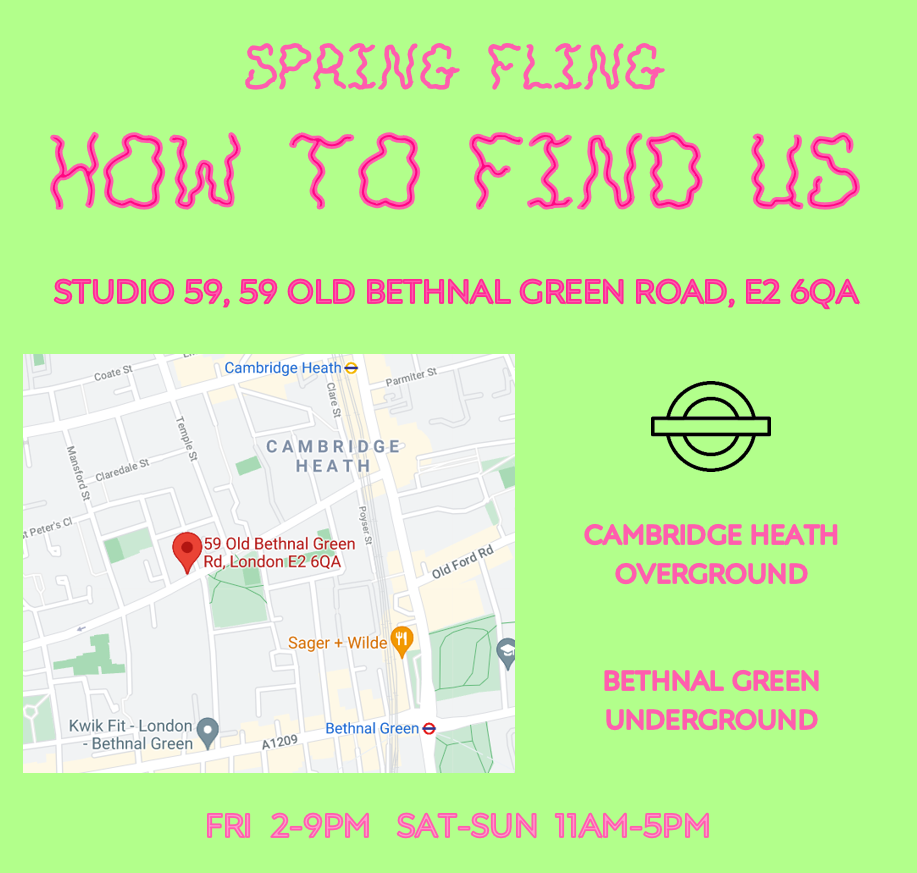 All Mouth Gallery presents 'SPRING FLING', a group show including work by Jasper Appleby-Sherring, Plum Cloutman, James Owens and Oliver Pearce. 'Spring Fling' brings together four artists' verdant, delicious explorations of nature, plant life and gardens. Since the first UK lockdown, many of us have developed a heightened awareness of England's changing seasons. Throughout London, as the months grow warmer again, glimpses of tomato plants growing on doorsteps, herbs on window sills and thriving allotments are more and more common. We all crave a little green patch of our own. Though we don't always notice the tangling weed pushing through cracks in the walls or the tiny clovers amongst the grass, we rely on the plant realm to survive in so many ways. The botanical world is a vast network of multiplicities, of curiosity, entanglement, folklore, fantasy and magic. The dark days of winder are over, so slip into the greenery, kick off your shoes and join our Spring Fling!
Jasper Appleby-Sherring is an artist making works in a variety of mediums, including drawing and ceramics. For Jasper, art is a tool to investigate and recreate the materials of his daily life; exploring the fun that can be had in adjusting our environment to be more sensitive to the natural world.
Plum Cloutman is a painter and printmaker based between North Norfolk and London. Graduating from Edinburgh College of Art in 2018, her work has been awarded the Catriona White Prize, the Lyon and Turnbull Prize, and was featured in the 2019 Royal Society of Arts New Contemporaries exhibition. She has gone on to exhibit across the UK and internationally, with upcoming shows this year including solo presentations at Hesse Flatow in New York, and Althuis Hofland in Amsterdam.
Working predominantly in heavily built up pastels and oil, Cloutman's work shows snapshots of imagined worlds and uncanny spaces, where humans, dogs and plants function as avatars for her own identity within the frame. Cloutman has recently exhibited at Cob Gallery (2020) and Blue Shop Cottage (2021).
James Owens's work depicts imagined folk-like scenes, largely inspired by his upbringing spent between the countryside and a Yorkshire fisherman's village. His work gathers past, present and imagined scenes to form new narratives, blurring the boundaries between memory and contemplation. The works offer moments of liminality which draw from external visual references such as 1920's and 30's Disney animation. Nature and its mysteries also come to play, revealed through flowers which sway sinisterly and knowing eyes which seem to have it all sussed out. Meanwhile, curling blades of grass peer curiously across the canvas, weighed down by water droplets, drooping as though upset. Though inherently figurative, it isn't hard to feel like nature has the upper hand in Owens' work.
Oliver Pearce is a graduate from Camberwell College of Arts, who's Artistic practice is rooted in a passion for the history of art, to develop visual striking imagery of varied themes, exploring human psychology and mythologies in rich layers of oil paint.