As the pandemic continues to restrict exposure opportunities to emerging artists, All Mouth Gallery has teamed up with Sad Grads to provide a series of online exhibitions to 2020 graduates from across the UK.

14 February 2021
I'm a 22 year old artist/writer/person based in Surrey. Having graduated in March/April/May/whoevenknowswhen in 2020 from The Glasgow School of Art, I've been continuing to pursue my practise back home which consists of poetry, painting, ceramic work and drawing. I view my work as diaristic and candid and often try to use language and imagery in a transparent way in order to convey total honesty. I create in a quick and immediate manor in order to capture an emotion entirely, and often through the written word seek to use everyday themes to make my work relatable and comforting.
ABOUT THE WORK:
First of all, I am about 90% sure that I spelt acupuncture wrong here. But I'm embracing the childlike nature of it. I made this work because I thought it would be a funny image of all these menacing acupuncture sticks coming out of this smiling person, and they're like whoops, you got my heart there. I was having a conversation recently with a friend where they were like, yeah I've always thought with acupuncture how do they know how far they're meant to go? And then of course there's that horrifying scene from Final Destination 3 or something. I challenge myself to trivialise uncomfortable images like this one, I often draw people/ things on fire for example. I drew it in a child like way with lots of colour so that someone can look at it and think, well if they're fine with it and look happy, then why not.
See Nell's Instagram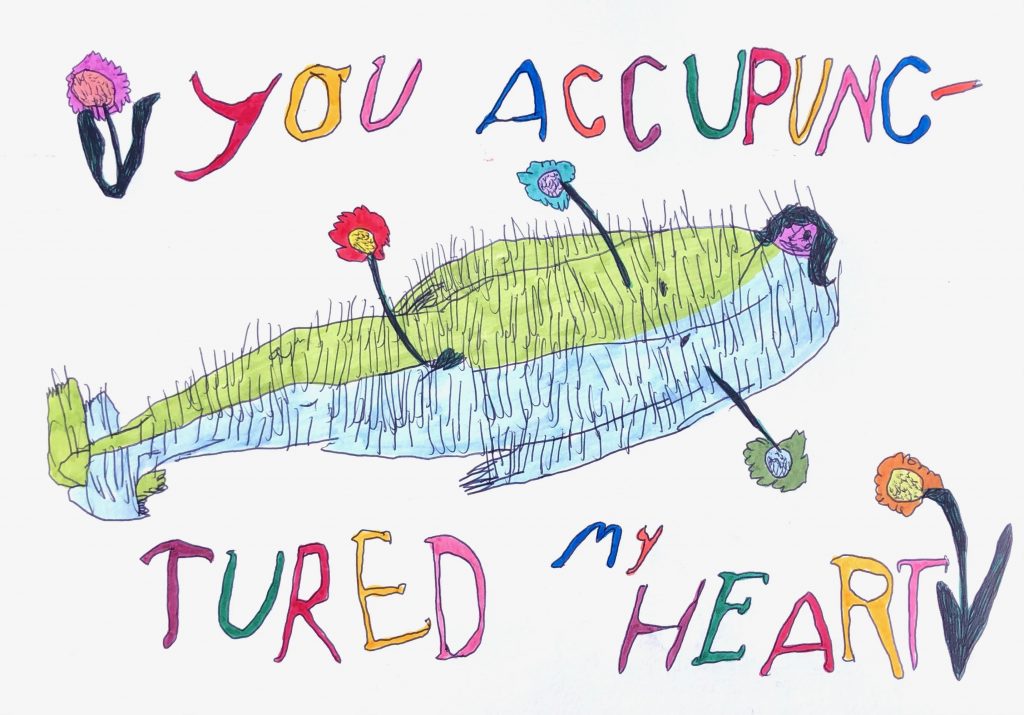 'You Accupunctured my Heart'
A4
Pitt Artist pen and biro on heavyweight cartridge paper
SOLD
Postage fees vary according to the size of the artwork and the location of the recipient.
We promise to send each artwork in the most secure and economical way possible.