As the pandemic continues to restrict exposure opportunities to emerging artists, All Mouth Gallery has teamed up with Sad Grads to provide a series of online exhibitions to 2020 graduates from across the UK.

13 – 19 February 2021
I'm a 22 year old artist/writer/person based in Surrey. Having graduated in March/April/May/whoevenknowswhen in 2020 from The Glasgow School of Art, I've been continuing to pursue my practise back home which consists of poetry, painting, ceramic work and drawing. I view my work as diaristic and candid and often try to use language and imagery in a transparent way in order to convey total honesty. I create in a quick and immediate manor in order to capture an emotion entirely, and often through the written word seek to use everyday themes to make my work relatable and comforting.
ABOUT THE WORK:
I was having one of those bleak lockdown days where I felt so zapped of energy that I just sort of sat on the bathroom floor while getting changed and was like, huh, I can make something out of this, and it might make my day a little bit better too. So I just did a rough sketch in my journal, which the next day I turned into a mono print, and a few days later, into this painting. When the ideas sort of pop into my head without my control I know that they're worth making something about. I painted it in blue because I wanted to add all the drama that I possibly could to represent the bad mood that had me sitting on the floor in the first place, and I painted the floor tiles all fancy like because I wanted it to look beautiful too.
See Nell's Instagram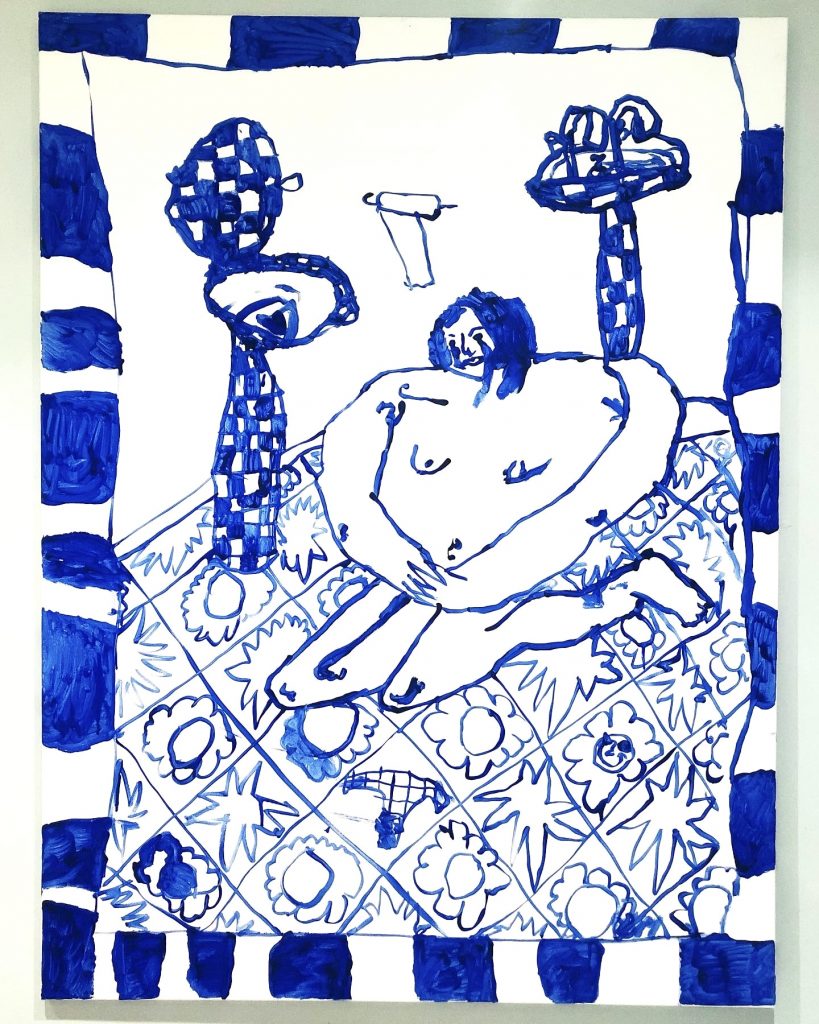 Blue Toilet
92 x 122 cm
Acrylic on canvas