BOWES-PARRIS GALLERY & ALL MOUTH GALLERY PRESENT
CURATED FOR CHRISTMAS
CHARITY ART AUCTION IN SUPPORT OF THE TRUSSELL TRUST
4 – 18 December 2020 (online)
Due to London going into Tier 3 Covid-19 restrictions on Wednesday 16th Dec, the physical show will close at 5pm on Tuesday 15th. The auction continues until Friday 18th.
Old Debenhams, Wandsworth High Street, SW18 4TF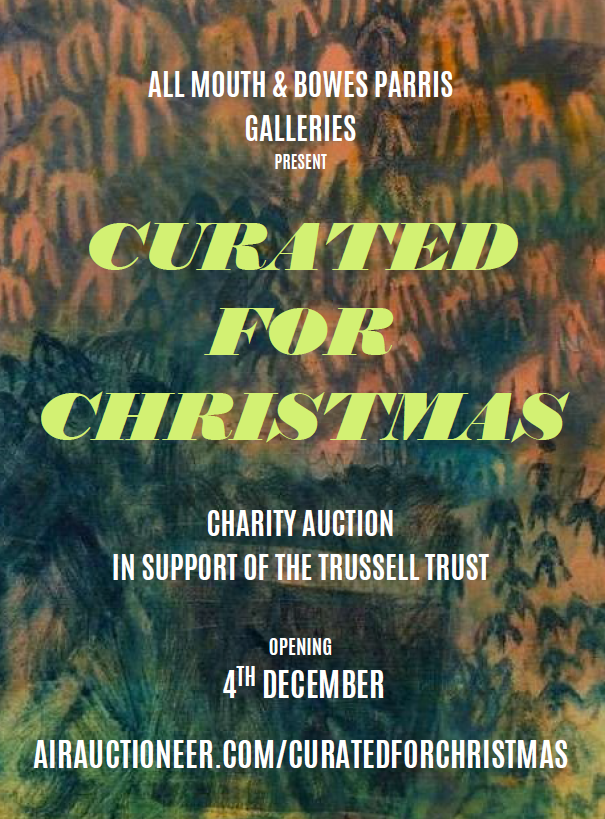 Bowes Parris Gallery and All Mouth Gallery are pleased to come together to present Curated for Christmas, a charity art auction in support of The Trussell Trust.
As we find ourselves in another lockdown in the UK, supporting emerging artists as well as charities such as The Trussell Trust has become more important than ever, providing young artists with opportunities, and support for charities whose services are in increasing demand.
With the Bowes-Parris ethos of championing underrepresented artists, combined with All Mouth's ethos of 'slow looking' , the auction will bring together our two visions. Curated for Christmas will feature a diverse group of young artists, displayed in a gallery space with beanbags and screens to facilitate contemplation and allow the viewers to spend time with the artworks. Audiences will be able to leave their bids on a screen at the exhibition, or online from the comfort of their homes.
The auction will feature 50 lots from the most exciting young artists working today, including Eliza Hopewell, Sophie Vallance Cantor, James Owens, Manon Steyaert, Emily Stollery and many more. The works will be on view to the public from 4th December – 18th December 2020 at the ex-Debenhams in Wandsworth.
The auction will be online at https://airauctioneer.com/curatedforchristmas
Bidding starts at 10am on the 4th December and ends on 18th December.

Click here for info on how to find us