22 – 28 November 2020
Harriet Gillett (b.1995, East Yorkshire) is a painter and printmaker currently based in London. Harriet graduated in English Literature from Edinburgh University in 2017 and completed a graduate diploma in Fine Art at City and Guilds of London Art School this year. She recently exhibited with Unit1 Gallery | Workshop Gallery and Purslane Art, and has just been shortlisted for the Ingram prize.

She is interested in drawing parallels between different narratives, looking to break down binaries by creating works which seek to blur the lines between abstraction and figuration, tradition or the contemporary, predator or prey. Working from a combination of observational drawing and imagination, her works are rooted in personal experiences but also take inspiration from literature, music and art history. She creates distance from the original subject through a layering of various materials and processes, and repetition of imagery and symbols to reflect upon nostalgia and the ways memory tends to obscure and sugar-coat reality.

This piece is part of an ongoing series of paintings based on observational drawings in pubs and live music venues in the run up to lockdown. Taking a cue from the small scale and iridescent hues of western devotional icon paintings, I began painting them whilst craving the connection of being in a shared social space, and romanticising that part of British pub culture I no longer felt part of. Rather ironically though, as I was usually there to support friends' gigs and do not play an instrument, my experience was generally that of being alone, perched in a corner of the room, observing, listening, and drawing everyone else.
See Harriet's Instagram and Website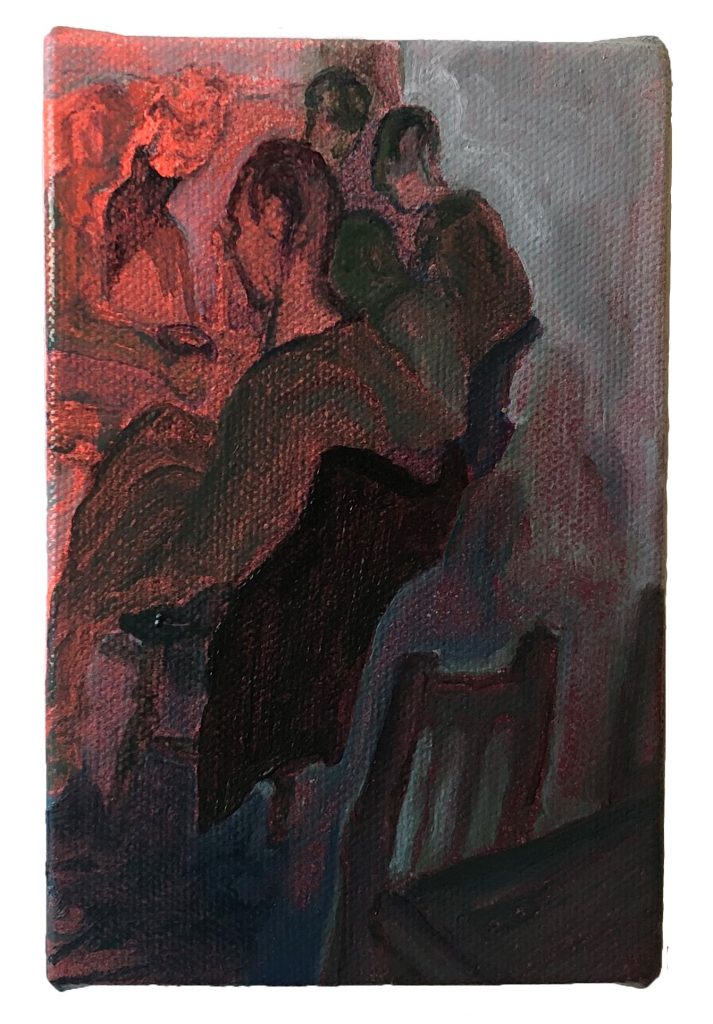 The empty chair
10 x 15 cm
Oil and spray paint on canvas